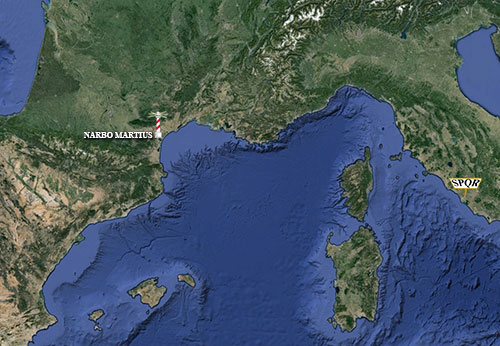 Narbo Martius, the present Narbonne, was a city in the south of France, founded in 118 BC. It was the first Roman colony outside Italy. The harbour was used for the navy by Julius Caesar as well as by Pompeius. Around 46 BC Julius Caesar built a new harbour, while the emperor Augustus re-organized the city. Narbo Martius became the capital of Gallia Narbonensis and from that time on was called Colonia Iulia Paterna Narbo Martius.
Narbo was an important link between the Mediterranean Sea and the Atlantic Ocean. The city was located strategically at a point where two Roman roads were constructed, the Via Domitia, which connected Italy with Spain, and the Via Aquitania, from Narbo Martius towards the Atlantic Ocean. The city had a trading office in Ostia on the Piazzale delle Corporazioni (statio 32). At Port Vendres, 100 km to the south of Narbonne, an important shipwreck has been investigated.
See also:
- "Narbonne, gate to the Celtic world" , also available in Dutch.
- "Searching for the harbour of Saint Martin le Bas", also available in Dutch.
.
- Movie about excavations at Le Clos de la Lombarde by Les Amis du Clos de la Lombarde.
- Movie about an anchor found in Port-La-Nautique by Restit3D.
- Movie about the shipwreck of Port Vendres (English subtitles), by the Agence française pour la biodiversité. Also available with Dutch subtitles.
- Complete video about all the excavated sites of Narbonne including the several ports: 'Narbonne, the second Rome'
Narrated in French or German but also with Polish or English subtitles.