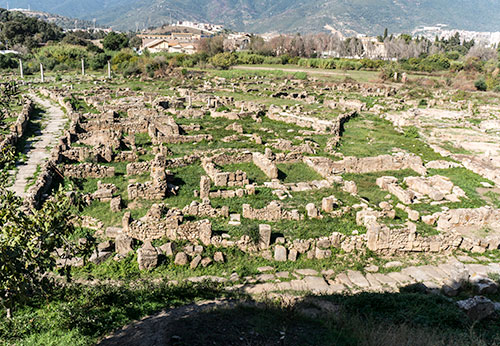 The Punic-Roman name Hippo Regius means Royal Harbour, because the city was one of the residences of the Numidian kings. It is the ancient name of the modern city of Annaba, in Algeria.
The city lies on the west coast of a bay to which it gave its name: Hipponensis Sinus. It was near the mouth of the river Ubus.
In late antiquity Saint Augustine "of Hippo" (born in nearby Thagaste) was bishop of the city, from 395 to 430 AD. He founded the first African monastery in the city.
A museum inside the archaeological area houses many statues that decorated the Forum, the baths and the private houses of Hippo Regius.
The city should not be confused with Hippo Diarrhytus.
See also:
- Roberto Piperno's pages about Imperial Hippo Regius and the Christian neighbourhood and the museum.
- A movie by Le Guide Touristique.