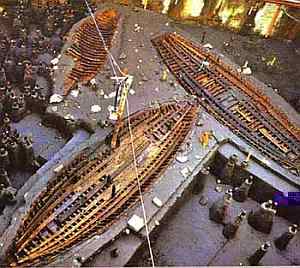 Neapolis (New City) is the ancient name of Naples, located on the west coast of Italy near the cluster of harbours Misenum - Portus Iulius - Puteoli. Neapolis became a Roman city in 90 BC.
The port dates probably from the fourth century BC. In January 2004 the location of the port was ascertained during work for a new subway line. The port was where Piazza Municipio stands today. The sea extended from the modern square to modern Piazza Bovio, forming a bay protected by two promontories to the east and west. Most of the modern square is where water used to be. Three Roman vessels were uncovered during excavation for the new metropolitana line. Excavations have shown that a pier of wooden poles and calcareous stones was built at the end of the first century AD, and quays were built as late as the second century AD.
The next station down the line, at Piazza Nicola Amore, has yielded the remains of an impressive imperial villa, the site of the Roman Isolympic Games.
See also:
- Jeff Matthews' pages about Naples.