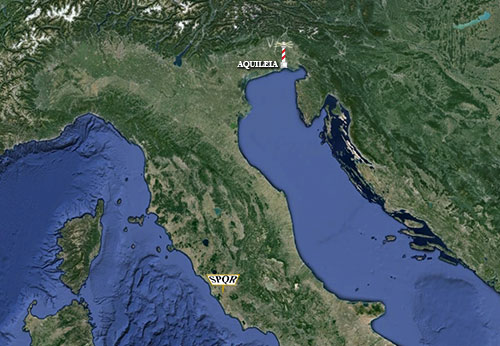 Aquileia was founded in 180/181 BC in the northeast of Italy for border control. It is at the far north end of the Adriatic sea.
From about 130 BC the port of Aquileia became more and more an important trade centre for especially agricultural products. Originally the city was a Roman colony, but it became a municipium (free town) in 90 BC. During the reign of the emperor Augustus the city was plundered, but the inhabitants were able to rebuild it.
In the later second century the city changed again into a military fortresss, because of uncertainties at the time. However, Aquileia also reached her greatest wealth. Besides being a marine base, the city was the residence of the corrector Venetiarum et Histriae. There was a mint and an imperial palace often used by the emperors after Diocletian. At the end of the fourth century the poet Ausonius mentioned the city as the ninth city of the world, famous because of its walls and harbour.
Today Aquileia is called one of the best preserved Roman cities in Italy, but largely yet to be excavated. It is on the World Heritage List of UNESCO.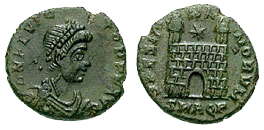 See also:
- A movie by the Ministry of Culture.
[15-08-2016] Important discovery at Aquileia.