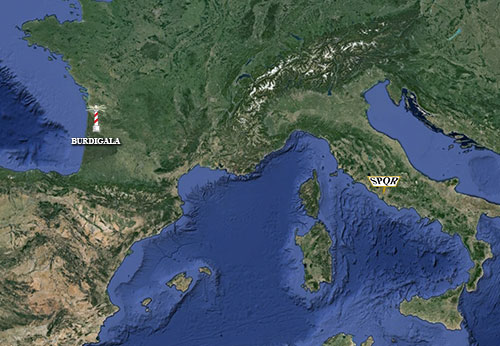 Burdigala, near the modern city of Bordeaux, was located on the westbank of the river Garonne, on the Atlantic coast. The city came under Roman rule around 60 BC.
During the Roman empire the city was very prosperous. It became an important commercial centre for tin and lead.
In the fourth century the poet Ausonius, born in the city, wrote in his work "Illustrious cities": "Bordeaux is my native country; there the sky is soft and mild, the soil, thanks to the rains, good and fertile, the spring long, the winter warm at the return of the sun; the rivers have a bubbling current which, along the hills planted with vines, imitates the eddy of the sea".
An amphitheatre from the second century has been preserved, today called Palais Gallien / Palace of Gallienus.