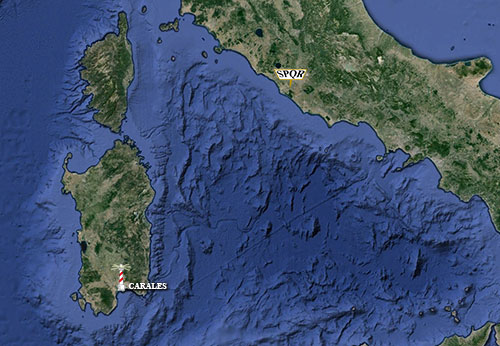 Carales, modern Cagliari in the south of Sardinia, was an old harbour city located on the mouth of the river Mannu on a bay. The city was captured by the Romans in 238 BC and after the first Punic war the Romans built a new settlement east of the old Punic city, the vicus munitus Caralis (i.e. the fortified town of Caralis) mentioned by the Roman poet Varro Atacinus (82-35 BC). The two urban agglomerations merged gradually.
Cagliari obtained the status of munipium, and all its inhabitants were Roman citizens. The Roman historian Florus (74-130 AD) calls it the urbs urbium, or capital of Sardinia: it was the capital of the province Sardinia et Corsica under the Roman Empire.
The harbour was for long a commercial centre in the Mediterranaen and had a connection with Ostia (statio 21 on the Piazzale delle Corporazioni). It had ca. 20.000 inhabitants. It exported salt, grain, tanned leather and metal. In the city you can find a Roman amphitheatre and suburban villas.
See also:
- "Imitatio et Aemulatio", also available in Dutch and Italian.
- A movie by the Comune di Cagliari.