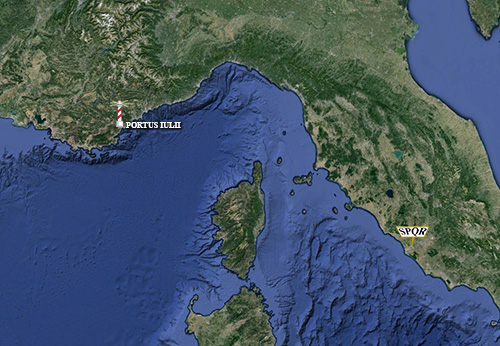 Forum Iulii was a harbour city in the south of France, about 110 kms east of Marseille. It was founded by Julius Caesar and named after him. Nowadays the town is called Fréjus.
The emperor Augustus made the city a colony of Rome, Forum Iulii Octavanorum Colonia. Pliny the Elder adds: quae Pacensis appellatur et Classica, referring to a fleet (classis). In the harbour Augustus stationed the 330 warships he captured during the battle of Actium, and the city became the sole naval base of the Roman fleet in Gaul.
In the city you can still find a gate, an amphitheatre, a theatre, baths, an aqueduct, lighthouses and quay walls.
See also:
- A movie about Fréjus, by Ville de Fréjus TV.
- A movie about reconstructing Fréjus, by Ville de Fréjus TV.