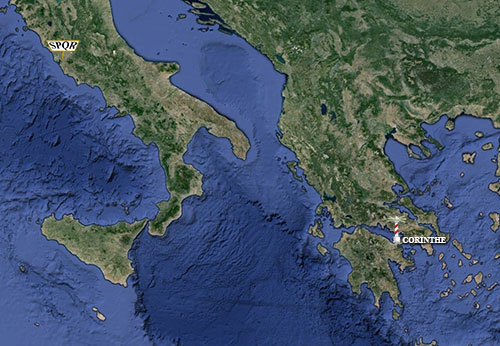 Corinth is a very old city 78 kms west of Athens and lies in a sheltered bay. There were two harbours. The one on the west side of the Corinthian Gulf was Lechaion (Lechaeum), which connected Corinth with the Greek colonies in the west. The other, called Magna Graecia (Cenchreae), was located on the Saronic Gulf.
When the Romans, under Lucius Mummius, defeated Corinth in 146 BC he ordered to kill all male citizens by the sword and to sell all children and women in slavery. For a long time the city was abandoned until Julius Caesar in 44 BC rebuilt the city and gave it the name Colonia Laus Iulia Corinthiensis (colony of Corinth in honour of Julius). The city is famous because of stays by the apostle Paul.
A couple of years ago a Greek-Danish underwater archaeological team discovered the remains of the western mole as well as the infrastructure of Lechaion, which probably has served from the 6th century BC till the 5th century AD. Both harbours were equipped with marine docks.
See also:
- "Archaeologists connect ancient Corinth's inner and outer harbours", Archaeology News Network.
- Animation movie by "History in 3D" creative team for Georgios Terzis.