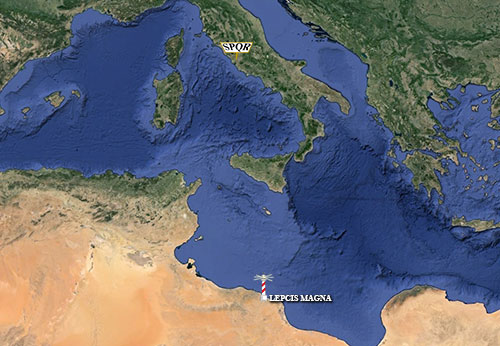 Lepcis Magna comes from about 1.000 BC and was built by local Berbers and Phoenicians in present Libya.
Lepcis or Leptis Magna played a dominant role within the Roman empire. Today you can find the ruins in modern Khoms, about 130 kms east of Tripoli where the Wadi Lebda reaches the coast.
Till the so called 'Arab spring' this was the most spectacular and original ruin along the Mediterranean Sea.
During the reign of the emperor August Leptis Magna was called the Civitas Liber et immunis, a free town where the governor had minimal jurisdiction. At last, under the reign of Nero, the city became a minicipium, a city with a certain degree of Roman rights and privileges.
Already soon after the foundation some Italians settled on the African ground and started a lucrative trade with the Libyan hinterland.
This remained until the reign of Tiberius. The latter incorporated the city in the Roman empire as part of the province of Africa. The city became one of the most important African trade harbours.
The city reached its highest prosperity in 193 AD when one of her citizens, the son of a Berber named Septimus Severus, was emperor between 193 and 211. He donated the city many buildings such as a new forum, a temple for Jupiter, and a basilica (roofed market place). The city became very wealthy and was, after Alexandria and Carthage, the most important African city. The harbour too was renewed with a dam and two big basins to prevent flooding.
Like so many harbours also this new built one threatened to salinity. The new docks built by Septimus Severus made it only worse. A happy consequence for us is that these new docks hardly have been used and therefor are preserved in a very good condition.
RELATED ARTICLES ABOUT LEPTIS MAGNA
04-02-2018 Video impression of Leptis Magna (only music)
11-08-2017 Leptis Magna, main port to Africa (Nederlands) (English) (Italiano) (Deutsch) (Français)