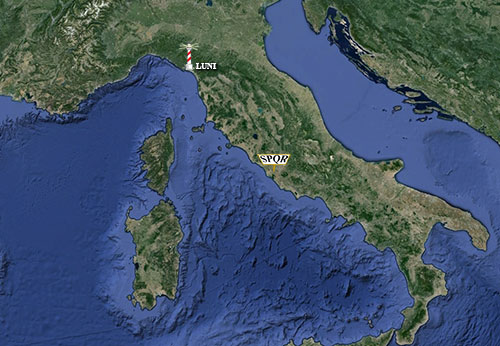 Luna was founded by the Romans in 177 BC at the mouth of the river Magra in the northwest of Italy. Today the city is called Luni. It started as a military base against the Ligures, the original inhabitants of that region. The city was connected with Rome by the Via Aemilia Scauri, a road that was reconstructed in the 2nd century AD as the Via Aurelia.
The natural harbour of Luna is on the Gulf of La Spezia. It flourished because it was used for the trade in the famous white marble from the Carrara quarries. It was an essential component of the "classical" Roman architecture.
Most of the ancient city was never built upon later, but only limited excavations have taken place so far. The city has a rectangular plan. The remains of a theatre and an amphitheatre can be seen. Luna is Latin for the moon and moon goddess. She had a large temple in the city and an altar dedicated to her has been found. A famous, detailed mosaic of the Circus Maximus in Rome was found in Luna.