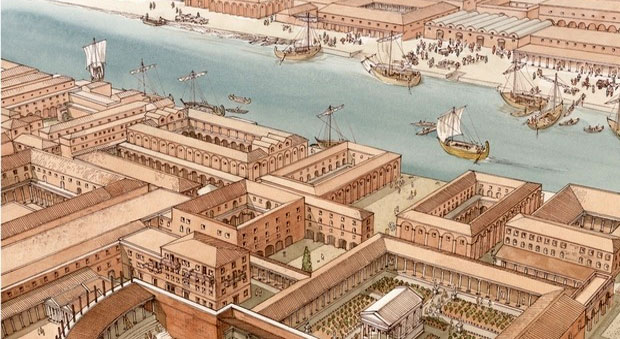 Ostia Antica, the "journey" of the grain revealed: findings from 2000 years ago
ROME NEWS Wednesday, October 30, 2019 by Laura Larcan.
3.5 thousand Terracotta figurines depicting the "saccari" (the porters who unloaded the goods), lamps decorated in relief with scenes of life of the port, engraved bronze weights used for the measurements of the grain, up to the molds used by the bakers to make focacce with perfect shapes. There are dozens of finds in lava stone, bronze and terracotta, dating back to 2000 years ago, found in the deposits of the archaeological park of Ostia Antica, cleaned up and restated and exhibited for the first time in the Ostiense Museum as part of the "Eppur si espone" conceived by the director Mariarosaria Barbera.
Read more and see the video (in Italian language) at https://www.ilmessaggero.it/roma/news/ostia_antica_svelato_viaggio_grano_porto_roma_reperti_2000_anni_fa-4830878.html?fbclid=IwAR2ppDoD3KdIqd5CKSnPPfRVZl_IrF8k9ZVtdOKlpbX4sfu9jrdVg0e4R0Y