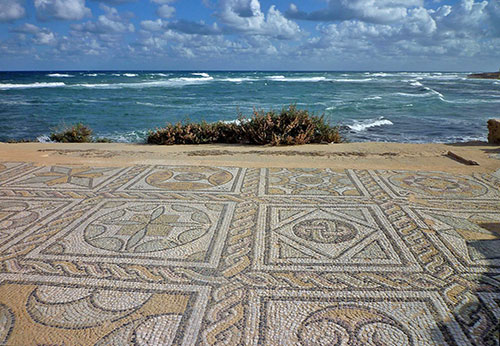 Sabratha, located about 70 kms from modern Tripoli in Libya, benefitted from the fact that the emperor Septimius Severus was a native of Leptis Magna, another important Roman harbour in present-day Libya. The city was excavated by Italian archaeologists.
There are still many monuments to admire, such as a theatre, an amphitheatre, and temples dedicated to Antoninus Pius, Jupiter, Hercules, Liber Pater, Serapis and Isis. There is a Christian basilica from the time of Justinian.
Sabratha had an office on the Piazzale delle Corporazioni in Ostia (statio 14). Here an elephant is depicted, suggesting the export of wild animals for the amphitheatre and ivory.
See also:
- "Roman port as a luna park for children", also available inDutch
-Video: Sabratha (English narrated).